OUR FEATURED PET OF THE MONTH IS:
SASHA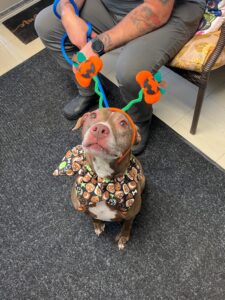 ---------------------------------------------------------------------------------------------------------------------------------------------------------------------------------------------------------------------------------------
Adoption Process
Adopting an animal is a lifetime responsibility! Our goal is to help potential adopters understand the gravity of their decisions and maximize the probability of a happily ever after. All adoption policies and procedures were established with this goal in mind.
Research, Reflect, and Communicate:
The first step to adopting is to know what kind of animal you are looking for: species, breed, size, personality, etc. Knowing what you are and are not looking for in a pet will greatly help in finding the best match.
All of our animals available for adoption are viewable here accompanied by a brief description. Additionally pictures and names of our animals available for adoption are posted on the bulletin board in the lobby of the shelter.
Communicate which animals in which you are interested, explain your family situation, and what you are looking for in a pet. The staff will help decide which animal is a good match for you and your family
Complete an Adoption Application:
The Adoption Application will allow the staff to have a record of the animals in which their are interested parties. The completed application will also assist the staff in match-making efforts. To facilitate timely adoptions, a nonrefundable $5 fee is required when completing a application. This fee assures that Adoption Applications are only completed by parties truly interested in adopting, reducing queues and wait times for those who are interested. This $5 fee will be deducted from the cost of adoption.
Download: Adoption Application
Download, print, and complete the application at home to save time when you visit the shelter
Meet the Animals:
If you are interested in adopting a cat a staff member will take you back to the cat room where you will be able to meet all the cats. Take this time to play with the cats and see with whom you connect. Ask the staff any questions you may have about their temperament and history.
If you are interested in adopting a dog a staff member will ask you to wait in the lobby while they retrieve the dog. Meeting the dog in the lobby allows for a one on one experience in a more relaxing environment. When first meeting a dog allow it to approach and sniff you. When first petting a dog do so underhand, below the dogs snout. Most dogs will need some time to relax after the initial excitement of meeting a new person so remain calm and patient while the dog becomes comfortable with you.
Meet and Greet Requirements:
Before you will be allowed to adopt a dog the staff must have reasonable certainty that the dog will be comfortable in the new environment. All children and dogs that reside with the potential adopter must complete a meet and greet with the dog. This meet and greet may take some time as familiarity is achieved on neutral ground. If the staff decides that the meet and greet was unsuccessful you may either try again at a later time, or meet another dog.
Adopting the Animal:
When both the staff and adopter have approved of the adoption, the animal can officially be adopted! All you will need is a valid Photo ID and a form of payment. You can bring your own collar and leash if you would like, otherwise the staff will provide you with a small loop leash. You will complete the paperwork for the adoption and the dog license (if applicable) and pay the required fees listed below. You will receive your copy of the Adoption Contract, the dog license (if applicable), rabies tag, proof of vaccinations, and vet records, and a New Adopter Brochure to help you navigate this life change. The staff member will then take the animal out to your vehicle for you and say one last goodbye to the animal.
Adoption and Associated Fees:
Adoption Application:
$5 must be cash or check. Nonrefundable and will be deducted from adoption cost.
Dog Adoption:
$225 ($220 due at time of adoption), includes animal to be spayed or neutered and up to date on vaccinations, tested for heartworm and other diseases and dewormed.
Cat Adoptions:
$150 ($145 due at time of adoption), includes animal to be spayed or neutered, up to date on vaccinations, and FeLV / FIV tested and dewormed.
Dog License:
$5 for fixed animal owned by a senior citizen or persons with a disability
$7 for unfixed animal owned by a senior citizen or persons with a disability
$7 for fixed animal owned by all others
$9 for unfixed animal owned by all others